Let's Play Ponies! |
home




Unknown Lanard Ponies

These Ponies don't seem to have a symbol at all! These guys HAVE to be predecessors to the current Lanard Ponies. Their hooves different, only ONE hoof is painted, and IT is only half finished! The paint doesn't even go completely around the hoof!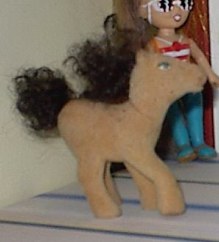 This one is one of my favorites. I think it is also an EARLY example of Lanard's ponies. She is a so soft or flocked Lanard Pony. I have never seen another one. Her mane and tail are different too. Both of the MOC Lanard Ponies that I have came with braids. This little girl has a curly mane and tail. The only other Lanards that I know for sure don't have braids DO have straight manes and tails. Anyway, I like this one, and am trying to think of a good name for her. (or is it a HE? any suggestions?)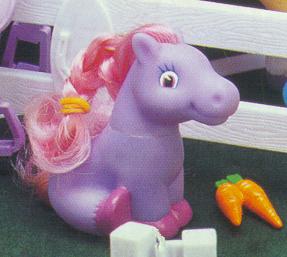 This picture is from the Stable box. I am pretty sure this would be the Petite ponies, but I have not seen any of them anywhere! I have seen some similar to this but they were made by Tara toys, and they aren't near as cute! If you have more information, or know where I might find the Petites,
please let me know!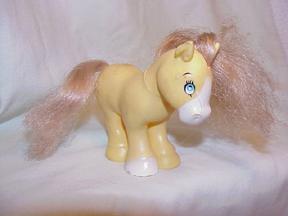 A REALLY good friend of mine found this one for me.. It is a LANARD! It is made in Hong Kong, where all the others I have now are made in China. I am not sure what it is, or where it came from, but isn't it CUTE?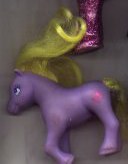 I found this one on ebay, and in the description it said "says lanard on underside". This is the first of its kind I have seen! What in the world is it??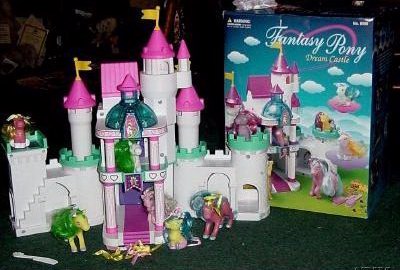 I don't know if this Castle is made by Lanard or not. It may be made by Tara because their ponies are very similar to Lanard. Whichever company made it, I WANT it, it is too cute!