Let's Play Ponies! |
home




My Little Lanard's


Lanard seems to have had 4 types of Party Ponies Pretty, Filly, Petite and Baby Party Ponies. (This info taken from the stable box) I think there may have been other types of lanard ponies too, maybe before the Party Ponies, I am trying to find out for sure. (See the information below about the Perfume Ponies!) They are not worth a whole lot, that I know of. I just like them... I will not pay a lot for them because there is not a high demand for them, AND because they are for me... Most of our money goes for the MLP stuff which both Jennifer AND I like! So, with that said.. Let me show you some really cute fakies!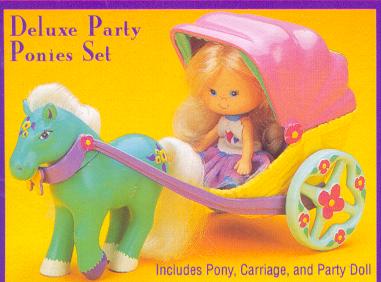 This little item I do NOT have, but would really LOVE! Below is a picture of it MIB. I believe that there was either more than one release of this carriage, or the one above was a prototype. As you can see, the doll and Pony are different, and the carriage is a different color.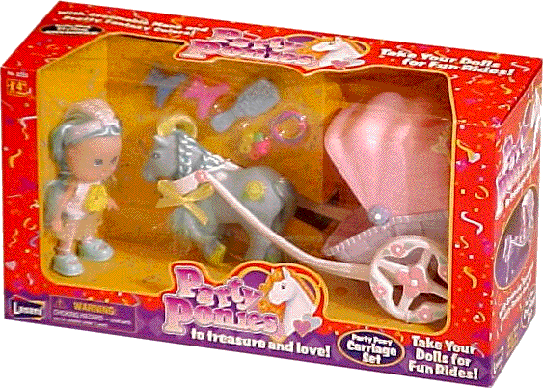 I don't know which doll and pony actually came with this carriage, maybe both? Who knows, one picture is of the actual toy in it's box, the other is a picture taken from the back of one of my MOC Lanard Ponies. Below is the Stable. Much of my information comes from the back of the stable box. But first, here is that same doll shown with the carriage above, as part of a set, with that same pony, but with a BABY pony instead of a carriage! I believe her name is probably Daisy, since this IS the name listed for one of the dolls, and she DOES have a flower on her shirt..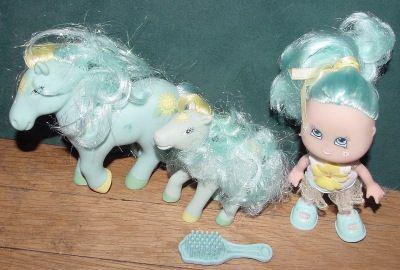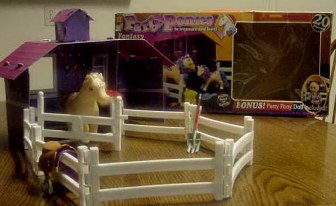 The Stable is really cute, and a virtual fountain of information about the later ponies. The stable was made in 1998. (that was the date on the box.) Apparently NO ponies came with this set, although two are pictured on the box. There WAS however a doll, which I NEED! A picture of the doll taken from the box is below.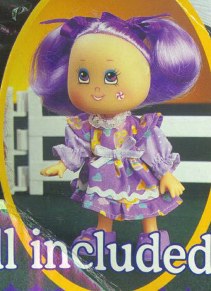 As you can see, she was included with the stable, but someone that owned MY stable before I did either kept her or lost her! SP if you have, or see this doll,
please let me know.
I also need some of the accessories that came with the stable. I don't hold out much hope of finding them, but here is a picture of what I need, JUST IN CASE someone has them in with their MLP goodies.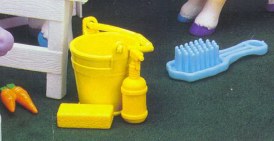 This is a sponge, some sort of water bottle, looks like a spray bottle, and of course a bucket, a brush and some carrots. Keep in mind that these accessories MIGHT look like the real thing instead of just being a solid color, since the accessories I DO have are more realistic looking. They should be made just like these though.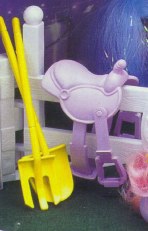 I do have the shovel and pitchfork, but they are a different color, they look real, instead of being all one color, but I think they are the ones that came with it, since they are shaped exactly the same. I am not sure about the saddle that came with mine, since it looks a bit different. It probably IS the right one, it is just more realistic looking, just like the shovel and pitchfork. It is brown with the stirrup being a silver color.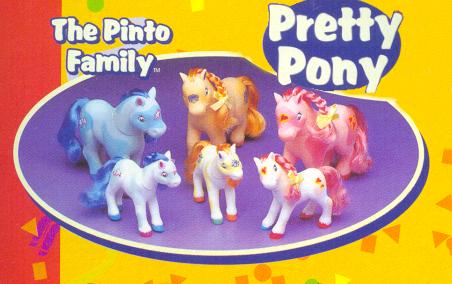 These Ponies are from "The Pinto Family" obviously...The picture above was scanned from the back of the my MOC Pretty Pony. (Pretty Ponies seems to mean Adult) I only have 2 of these ponies, the small white one with pink mane and heart symbols whom I shall call Lil Sweetheart, and the white one with orange mane and flower symbols whom I shall call Lil Flower. Soooo, if you should happen to find any of the others,
please let me know.
(a firmiliar litany!)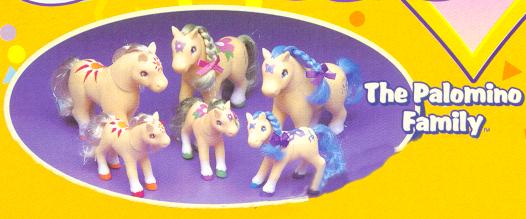 The Ponies above are from "The Palomino Family". I have all of the smaller ponies, or will have soon.. I have the one with white mane and tail MOC, AND I have her mom, which somehow ended up with my Stable on ebay! I call them Momma and Lil Sunburst. I have the smaller one with the blue mane and tail (butterfly symbol) and I call her Lil Flitter. The smaller one with green mane and tail is on the way! She has a flower symbol, and I think I will call her Lil Bouquet. Same story here, if anyone has the other two or sees them,
please let me know.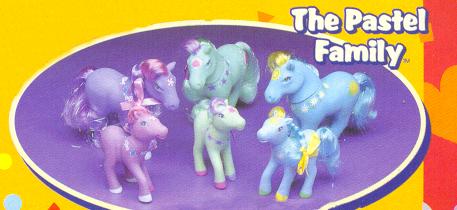 These are the same Ponies that seem to come with dolls in the picture below.. unless the dolls are sold separately. According to a source in Australia where these Ponies are still sold in stores, there is a set of Ponies called Perfume Ponies, and they came with
a little doll and had bright colours, the ponies she mentioned seeing were: Purple with yellow mane/tail, Orange with white mane/tail,
Green one, Blue one. I am hoping to add all of these to my collection soon!
Now, these are my personal favorites! The Ponies are from the Pastel family, pictured above by themselves. They are all dated 1986. Their dates are on the bottom of their hooves, whereas all of the others are on their tummies. The dates don't seem to mean that this is when they were made because we got a MOC pony today that has 1984 on the hoof, and it has 1998 on the packaging. I really like them because they seem to have come in sets with their very own little girl! (doll, of course) I don't have any of the dolls at all, so I would really appreciate any help in finding them! I do have the smaller purple pony. She has purple mane and tail with candy symbols. She has a peppermint candy swirl on her forehead and a candy necklace, AND as her main symbol she has a peppermint candy swirl along with a peppermint stick. I call her Lil Peppermint, or Pepper for short. I have the smaller green one. She has green mane and tail with scallop seashell symbols, one on her forehead, necklace and main symbol. I call her Lil Scallop. (I am trying desperately not to steal MLP names here!) I also have Momma Peppermint and Momma Scallop on the way from the UK. The other one which is Blue with Blue Mane and tail, appears to have daisys as her symbol, if this is the case, if I ever get her, I will call her Lil Daisy, and of course her mom will be Momma Daisy. (very original, huh?) The Purple haired doll in the bottom set in the above picture on the far right looks like it may be the doll that came with the stable and the one with blue hair and a yellow flower on her dress is the one seen in the box with the carriage. I don't see the doll that is pictured riding in the carriage on the stable box in this bunch at all! Maybe she comes with the perfume ponies? I REALLY want the dolls, so anyone with any information about these,
please let me know
!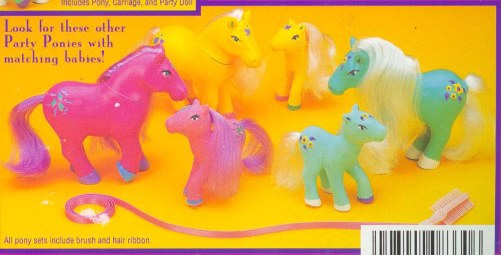 The picture above came from the back of my MOC Lil Sunburst. I only have one of these ponies, and that is the Green Momma. The date on her hoof is 1984. I am trying to get the yellow momma and baby right now, maybe soon they will join my herd! The Yellow Ponies have white mane and tail, with white flower necklace and Pink flower symbol. My personal favorites of this bunch are the pink ones, their symbol is kind of like scribbles and dabbles symbols! These Ponies differ from all the others I have pictures of in one way. They do not have braids. Both of my MOC's have braided manes, and all the pictures taken from different packaging shows the ponies with braids. I think that there were more sets that did not have braids... I am looking for more info! If you have or know someone who has these and wants to sell or trade,
please let me know.
Also, if you know anything about these Ponies that I don't, let me know. I don't know if you can read it or not, but at the bottom of this picture it says "All Party sets include brush and hair ribbon. Well, for the ones pictured above, that may be so, but the pony that THIS information came from did not have a ribbon. She has some little things similar to rubber bands, but a different material. She also has two clips and some beads. See the MOC pictures at the bottom of the page for an idea of different accessories they came with.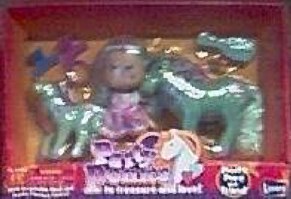 The picture above is not very clear, but you can see, it is one of the dolls, and a mommy pony and a baby pony. I am TRYING to get these now. I hope to have them soon. Below is another one I am trying to get.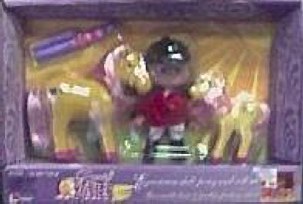 This one is scary because this doll is not pictured in any of the other information I have on the Party Ponies. I have seen her OUT of the package many times, once with a playset, shown below. I am wondering, since you can't see what the writing says on this box, is it one of the Perfume Pony playsets? The Picture above this one obviously says "Party Ponies Playset" But I can't make this one out.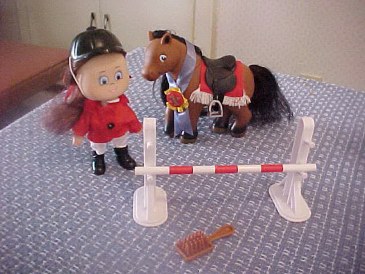 I don't know anything about this except it was listed on ebay as an English Rider Jump playset by Lanard. A fellow collector bet me to this playset, and since I don't bid against "pony friends" I let it go. I don't really know if this doll came with that pony, but I will email the friend and ask her if the pony is made by lanard also. There was another playset by the same seller (also bought by the same fellow collector) shown below.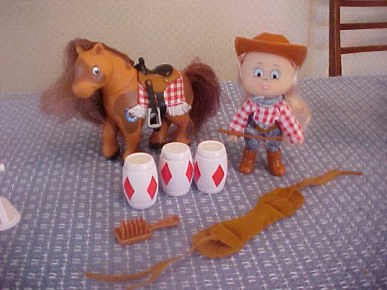 This was listed as a Barrel rider playset by Lanard. I haven't seen this doll, but the pony DOES look more like the traditional Lanard ponies than the one in the English Rider picture. It looks sort of like a member of the "Pinto Family" shown in a picture above. I think these playsets are adorable, and if you know how I can get one of either of these,
please let me know!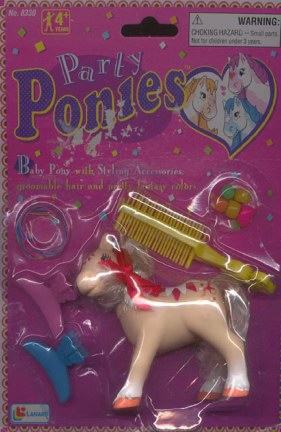 Isn't she adorable! Baby Sunburst! And she's MINE! LOL! I have one other MOC Lanard Pony, her picture is below.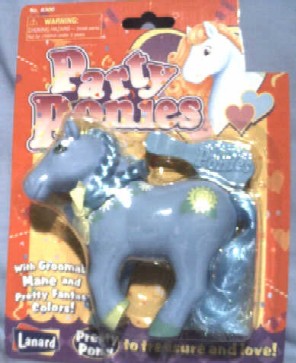 On the back of the stable it says "Look for Pretty, Filly, Petite and Baby Party Ponies" I am trying to figure out which is which! The pony above is a Pretty Pony according to the bottom of her card.