Let's Play Ponies! |
home




My Little Lanard Collection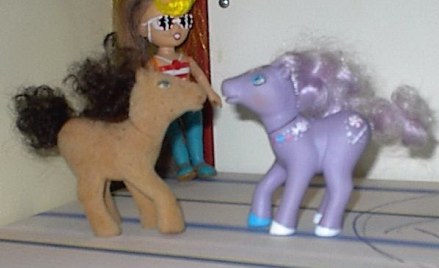 Lil No Name and Lil Peppermint.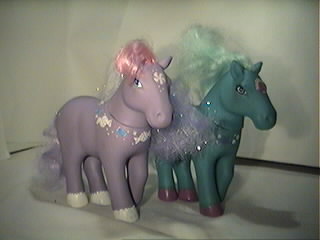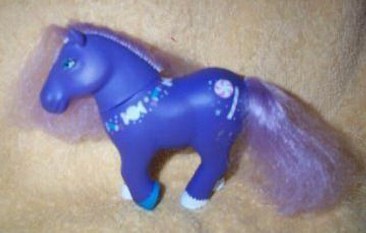 UK Momma Peppermint and Momma Scallop, and Australian Momma Peppermint. These Ponies have the same symbols, but their painted hoof are different colors, and they are different shades of purple. The Australian one has no forelocks, and the UK one has Pink forelocks. They are both made in China. I honestly believe that they were just made at different times, like the set was rereleased and changed just a bit.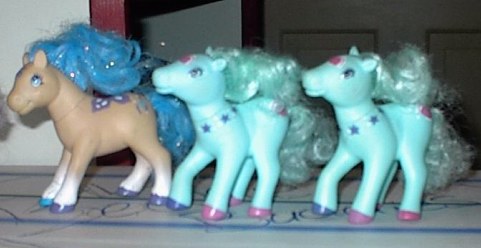 Lil Flutter and Lil Scallop. We have an extra Lil Scallop, but she is already promised to a wonderful new home!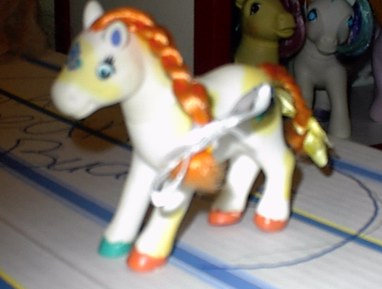 Lil Flower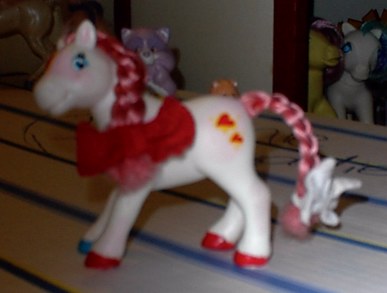 Lil Sweetheart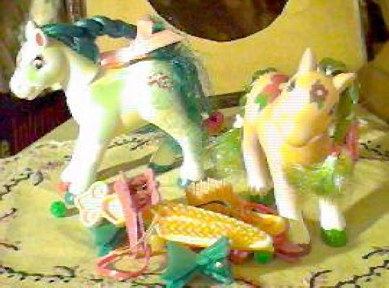 Lil Unknown and Lil Bouquet
I don't know what to call these.. don't even know if they are girl or boy ponies. Maybe since they have no symbols, I will let them be boy ponies!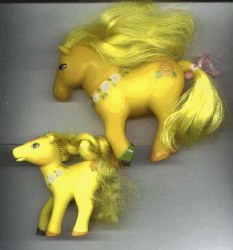 Got this momma and baby from Ebay!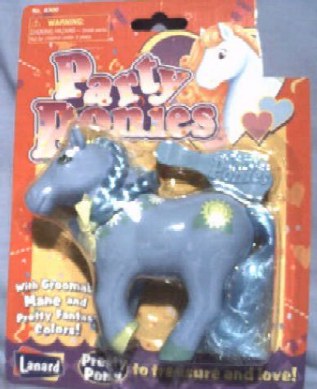 I will know more about her when she arrives! If you will notice, on the bottom of her card, it says "Pretty Pony"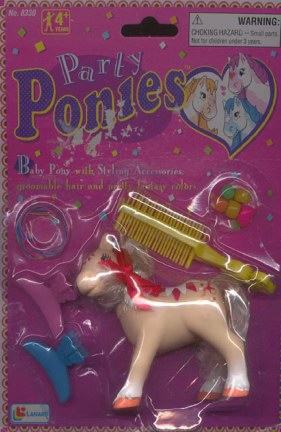 According to her card, Lil Sunburst is a "Baby Pony with styling accessories"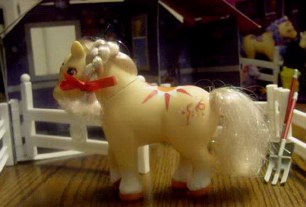 Here is Momma Sunburst!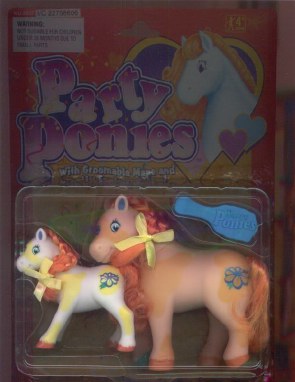 I am trading for these and several others MOC!! Also the one below!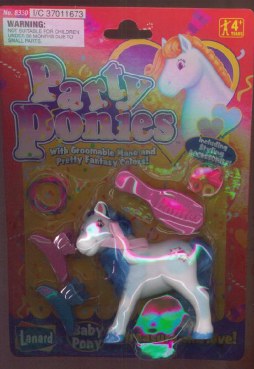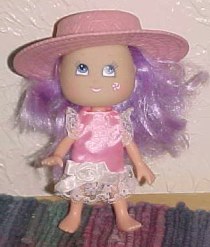 I won this little girl on ebay! I don't know her name... but I will, since I am pretty sure she will be one of the MOC's I get from my trade!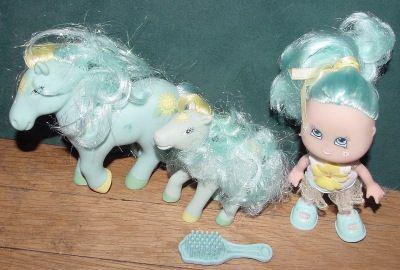 A friend got these for me from ebay as a surprise!! I am already getting them MOC, now I will also have them loose!! Read about another surprise I got from this friend below.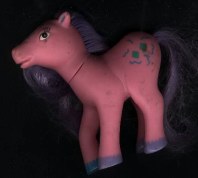 This is Lil Pinky. A really good friend of mine gave her to me. There is a cute story behind this pony. My friend collects/sells MLP's. Of course anyone that does ends up with a few NONmlp ponies somehow. Well, when my friend found out I liked these, she looked through her collection to see if she could find any Lanards. At first she didn't find any... but then one day, she moved a piece of furniture, and lo and behold there was LIL PINKY! My friend has CATS, and at the time she had EXTRA cats, that belonged to her sister. Well, if you looked at the MLP section of this site, you know that MY daughter HATES fakies of any kind. Since she was 3 yrs old and got her first MLP, she would say "THEM AINT REAL!" ADAMANTLY when some well meaning Aunt or Cousin gave her a fakie.. So ANYWAY, when I got Lil Pinky .. (My friend didn't clean her, because she knows I like to do that myself.) She smelled like CAT PISS! (excuse the vulgar word, but it is necessary for the story.) As SOON as I saw her, and smelled her.. I just BUSTED out laughing... because a picture formed in my mind of all of those cats.. playing with the ponies.. and one of them finding this one and saying.. "THEM AINT REAL!! PISS ON IT!" HAAAAAA HA HA HA HA HA HA HA HA!! See the after picture below.. she LOOKS nice and SMELLS nice too!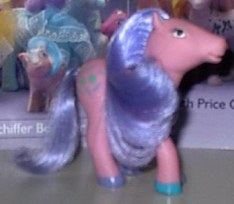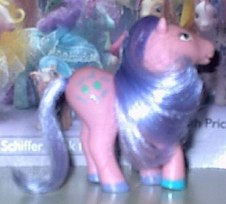 Lil Pinky (instead of Lil STINKY, LOL!) ALL cleaned up and smelling NICE!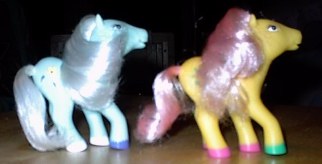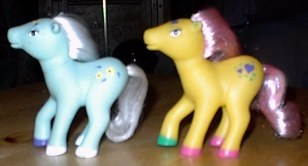 Above are Lil Pinky's "cousins" I guess you would say. They are from the same group of Lanard Ponies as Lil Pinky. I think that these are my favorite set.. I really can't decide.. I like them all! LOL! I want the Mommy Ponies for the yellow one above and for Lil Pinky. I have the mommy for the green one. I have got to get these girls named!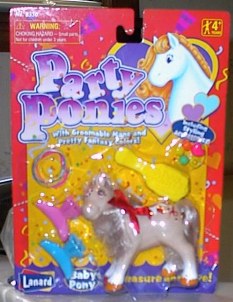 The friend mentioned in the Lil Stinky story ALSO sent me this!!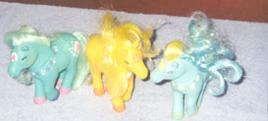 These are all doubles, but I have found that there are variations to at least two types of these ponies. The on the far right has yellow forelocks! I have NO idea why! I have seen ponies from two different sets that were made both ways. (only the momma's) I think maybe the ones with the forelocks that are the same as the rest of the mane are older, and the ones with the yellow ones are newer.. or maybe backwards of that? Who knows!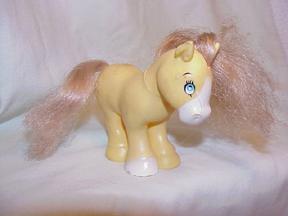 Cute huh? The most unusual Lanard I have seen so far!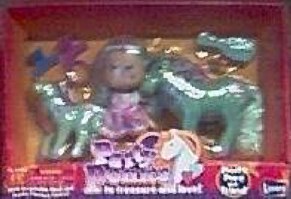 I just won the ones pictured above and below on ebay.