Trades

Kim and Jenn's Trades

This list is not current, we have not traded in a long time.

So Soft Northstar- 2 small rubs on lips, small one on one wing, very slight thinning on non-display cheek, VERY slight rubs on hooves. (on two of them, almost didn't see it!) Mane and Tail are GREAT, She is very Clean.
Lavender Lace- the purple one with Green hair, she is EXCELLENT, Except for the artwork of someone over her right eye, she has a dot a little smaller than the end of a pencil eraser. She still looks really good, and you might be able to make it disappear. She still smells GREAT!
Ringlets- (brush and grow) Mane and Tail wonderful, she does have a couple of marks on her, 1 small one on her leg and what appears to be faded ink smudges on her side beneath and near her symbol, it is not noticeable. (will take picture's of scans for you of any of these!)
Braided Beauty- Mane and Tail good, small pink mark on neck, couple of small marks on legs, there is a small faint line of ink near the left symbol. She displays wonderfully.
NSS Heartthrob- Mane and Tail GREAT, Some glitter loss to the wings in her symbol, but they are still very much there, there is a tiny smudge on her left leg that is hidden by her hair, and a VERY light smudge on her belly on the right side. She looks great.
Gingerbread- Her Mane and Tail are great, she is afflicted with some brown spots. A lot of the white ponies get them, and I can't get rid of them. She also has a couple of spots on her, her symbol's are a bit faded. She still displays nicely due to the lovely hair!
Flutter Rosedust- Two of her, both with poofy curly hair! The hair of one is pink, the other is white. They both look like the will frizz if you brush it, so I don't know what to tell you to do about them. The one with pink hair has a small pink spot near her eye, about the size of the pupil of her eye. The white haired one has some dirty spots that may or may not come off, I will give her a bath and see.
Baby Yo Yo- Hair is still a bit pink, but has faded some. It looks wonderful though. She has 3 TINY dots that I almost missed on one of her left legs, they are very faint and small, but they are there. She looks great!
FT Baby Quackers- *On her way to a new home!!! very nice, appears to have some blush (from factory?) on her neck, ear tips are slightly dingy, Symbol is very good. Her Mane is very nice, though her tail is a bit stiff on the ends, not frizzy.
Baby Bouncy- 2 marks on front legs, one on each leg, very slight symbol rub on non display side, her hair is good, tail slightly stiff on ends, not frizzy.
Baby Bouncy 2- G condition, mane is frizzy, tail is good.
Baby Bouncy 3- G condition, slight frizz to mane, still looks nice, I think she has been retailed, as her tail seems a bit too long.
Medley- Great condition, though her she has some blush rubbed off. Symbols excellent, BUT she needs a tail! Her Mane is great!
Applejack- Very Good Condition
Applejack2- VG condition (one time we had 12 Applejacks!)
Drink and Wet Snookums- VG condition
Drink and Wet Rainfeather- slight symbol rub on non-display side, tail stiff beginning to frizz, not quite there yet, Mane ok. Looks nice.
SS Best Wishes- BAD rubs on the tips of her non-display side wing. (looks like someone did it on purpose!) slight rubs on hooves. 2 small rubs on the display side. One is on the wing and is covered by her hair, the other is on the very tip of the wing and is not noticeable at all. She is still QUITE nice, especially if you can overlook the non-display wing. Oh, her mane and tail are GREAT!
So-Soft Paradise- Good mane and tail slightly stiff, not frizzy. She is ever so slightly dingy, not dirty looking, just dingy. She has BAD fuzz loss on her "chest" just under her neck though. The weird thing is there is almost NONE anywhere else! Not even on her feet!
Several Cotton Candy's, Lemon Drop's, Blossom's. (Both collector and original) ask us about their condition.
Twinkler- (Sparkle Pony) VERY GOOD all over! Until you get INSIDE her, she has mildew or something inside her. You can not tell this until you hold her up close, and she could easily be cleaned out, just take her head off and do it, then she would be minty.
BBE Shady- Her eyes still work, but they have rust on them, the lashes on one eye are almost completely gone, and her head is a bit lighter than her body.
Windy- We have a few of these some excellent, some good, some fair. All have great mane and tail! Ask for specifics.
Bubblefish- The fishbowl is there, but no fish! Otherwise good condition.
Bunnyhop- The Hat is there, but NO bunny! Otherwise good condition.
Lil Pocket- The Piggy bank is there, but no coin! Otherwise good condition.
Sweet Pocket- Very good condition, The yellow bee is indeed attached to the string on this one. Her only real flaw is that her head is the slightest bit lighter than her body.
Purple (Eyebrow) Princess- Very good condition.
Merry Treats- Very good condition, We also have her comb and the Card she came on, minus the horseshoe points.
Twilight- The Unicorn with glitter stars. VG condition.
Twilight2- The Unicorn with glitter stars. VG condition, but she is faded to a paler color.
BBE Gusty- Very Good, eyes look nice, there might be the slightest bit of a rust stain on one, but it isn't noticeable at all.
Baby Blossom- She is either smoozed or has ground in dirt. She displays fairly nicely, her hair is white, and a bit stiff, not frizzy.
Half Note- Very good condition.
Pina Colada- has some ink spots, her tail is cut. Half of her tail is normal length, half of it is cut almost at the base. She displays pretty well, but she needs a new tail.
Moonstone- She has a fair amount of Glitter loss but her Mane and Tail are very good.
Bride Pony- the one with the doves. Very good.
Glory- Fair to Good condition.
Tootie Tails- She has a couple of spots on her, the yellow part of her hair is frizzy, other than that she looks good.
Bushwoolie- The greenish/bluish one with the purple crown. She has paint rubs on her crown and a few on her body. She still looks good.
Surprise- (NSS) Very good condition.
TAF Dancing Butterflies- Very Good
2 more pages to go, I just got tired of typing, I will finish this later!
These are custom wings made from a scan of the real thing, then printed onto transparancies.. they look really cool though! (they are flat, not textured) All of our flutter trades and sales will come with their very own wings... (if you want them) no more flightless flutters! Also, the HAND is NOT for trade, it belongs to Jenn!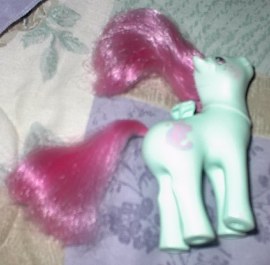 This poor flutter has a trim, but she is still cute! Have you noticed that the wings makes the ones with long hair sort of hard to display? Maybe that is why so many of the flutter ponies have hair cuts? UPDATE, we have traded our wing model! Does this mean we have to cut someone elses hair? NO, look below for our next candidate!
Now, on to the next flutter pony... poor thing, she has an awful haircut, it looks like the work of an underaged hairdresser to me!